Generate PDFs and Images with
Make.com and APITemplate.io
Make.com(Formerly Integromat) lets you connect APITemplate.io to other applications
Generating content can be time-consuming, especially if want to stay consistent.
Integromat is a powerful integration platform that allows you to visualize, design and automate your work in minutes.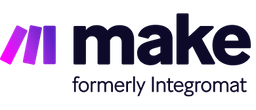 APITemplate.io allows you to create images and PDF documents from a reusable template. You can automate your content generation with Integromat to create banners, social media images, QR codes, bar codes, charts, Infographics and PDF documents.
Create image variations from reusable templates with APITemplate.io and Integromat

Easy-to-use drag and drop image template editor and no HTML or CSS knowledge required

Create image template with our template library and no design skills required

Automate Facebook posts, Instagram posts, PInterest and other social media

Support dynamic Charts (Pie, Area and more)  QR code and rating

Infographics and banner generation
Generate PDF documents from reusable templates with APITemplate.io and Integromat. 

HTML To PDF generation

WYSIWYG to PDF generation

Powerful template engine and support of custom CSS and Javascript

Preview and customize JSON data with API Console instantly

Support custom footer and header with page number, total pages
Create an Make Scenario to automatically generate images or PDFs
Sign up now to connect your data and create banners, social images or PDFs in minutes!
Copyright © 2023 APITemplate.io