Generate PDFs and Images with
Zapier and APITemplate.io
Zapier lets you connect APITemplate.io to 2,000+ other applications
Every business owner knows that time is money.
The truth is – Generating content can be time-consuming, especially if want to stay consistent.

APITemplate.io allows you to create content on-demand based on your designs, instead of manually crafting the perfect content.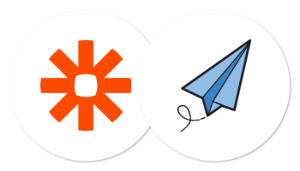 APITemplate.io allows you to create images and PDF documents from a reusable template. You can automate your content generation with Zapier to create banners, social media images, QR codes, bar codes, charts, Infographics and PDF documents.
Create image variations from reusable templates with APITemplate.io and Zapier

Easy-to-use drag and drop image template editor and no HTML or CSS knowledge required

Create image template with our template library and no design skills required

Automate Facebook posts, Instagram posts, PInterest and other social media

Support dynamic Charts (Pie, Area and more)  QR code and rating

Infographics and banner generation
Generate PDF documents from reusable templates with APITemplate.io and Zapier. 

HTML To PDF generation

WYSIWYG to PDF generation

Powerful template engine and support of custom CSS and Javascript

Preview and customize JSON data with API Console instantly

Support custom footer and header with page number, total pages
How do I connect APITemplate.io to Zapier?
Automated connections called Zaps ⚡, set up in minutes with no coding, can automate your day-to-day tasks and build workflows between apps that otherwise wouldn't be possible.
Each Zap has one app as the Trigger🎣, where your information comes from and which causes one or more Action 🏃‍♂️ in other apps, where your data gets sent automatically. 
Log in to your Zapier account or create a new account.

Navigate to My Apps from the top menu bar.

Now click on Connect a new account… and search for APITemplate.io

Use your credentials to connect your APITemplate.io account to Zapier.

Once that's done you can start creating an automation! Use a pre-made Zap or create your own with the Zap Editor. Creating a Zap requires no coding knowledge and you'll be walked step-by-step through the setup. 

Need inspiration? See everything that's possible with APITemplate.io and Zapier
Sign up now to connect your data and create banners or social images in minutes!
Copyright © 2023 APITemplate.io